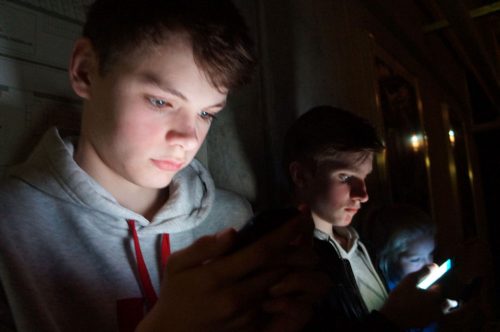 The CHOICE project is based on a non-formal learning path for students aged 13-18 years old to be included in school curricula and aimed at using drama to prevent technology, drugs and gambling addiction.
Addiction is on the rise in Europe. An increasing number of young people are unable to control their use of drugs, technology, gambling. Experts warn against the growing number of addicts. Every tenth European is addicted to legal or illegal intoxicants and almost one fifth of Europe's current health spending is addiction-related; a growing number of young Europeans are developing an addiction-based lifestyle. The EU now defines addiction as one of the biggest social problems facing Europe, so it's necessary to understand which are the main situations that could lead to addiction and train young people on how to make their own choices, avoiding situations that expose them to abuse. They also have to understand how addiction can impact their lives and how to support their friends.
The CHOICE project intends to identify and promote innovative approaches in secondary school education, for promoting and systematising empowerment practices for students' choice against Internet, drugs and gambling addiction. The project has an ethical base involving experts in different fields of specializations, such as teachers, actors, doctors, psychologists, philosophers, educators, life coaches and social workers who will interact and support students throughout the activity. Learners participate in several theatrical workshops and through stagecraft methodology they first will have the opportunity to increase their self-esteem which is the essential tool to make the right choice. The project presents an ethical choice by choosing positive behaviours when confronted with potentially risky situations and maintaining self-esteem even when external pressures might add to the risk factors. (Choosing employment opportunities, education, sport and healthy living as examples of addiction prevention). At the end of the educational training, students will have acquired more knowledge on the problems related to the use of drugs, technology and internet, gambling; moreover they will also have gained great self-knowledge and self-esteem. The importance the project attaches to theatrical performance lies in the hitherto missing link it provides between relevant information and the students' world: it is essential to convey knowledge with an emotional backdrop as well as supporting the individual.
The phases of the project involving The theater school Kastali'a so far meant that Anja and Lisbeth were in Poland the winter of 2017 taking part of a transnational meeting. Following an analysis of the target group in all six countries involved, Anja, Lisbeth and Jan have developed "Choice Drama Education Model". It's an intellectual output of the CHOICE project, which is a co-operation between 8 organisations from 6 different countries: Denmark – Teaterskolen Kastali'a, Poland – Wyższa Szkoła Biznesu i Nauk o Zdrowiu, Spain – Euroaccion, Slovenia – IVIZ, Ireland – EQUAL Ireland, and Italy – Tiber Umbria Comett Education Programme, Instituto Comprensivo Perugia 8 and Liceo Scientifico.
These partners have been working together in the CHOICE project from October 2016 to October 2018. The project is based on non-formal education and is funded by the European ERASMUS+ program.
Anja and Jan held a training course in Spain, where 36 teachers from the six countries were introduced to the teaching concept. From Randers and the surrounding area, teachers from Randers Youth School, Lilleskolen, Vestervangsskolen and UngNorddjurs participated. During spring 2018, the teachers who were on course in Spain have used the material in their own countries and during the summer of 2018 the manual will be translated into the different languages as well as courses for national teachers will be held so "Choice Drama Education Model" will be spread out to even more users.
The entire project will be completed in autumn 2018 with national conferences in all six countries involving experts and the dissemination of project results and an evaluation meeting for all partners in Italy.
The choice project is described in the local newspapers:
https://ugeavisen.dk/randersonsdag/Teaterskole-laerer-unge-at-forebygge-afhaengighed/artikel/342408