Making a scene for change II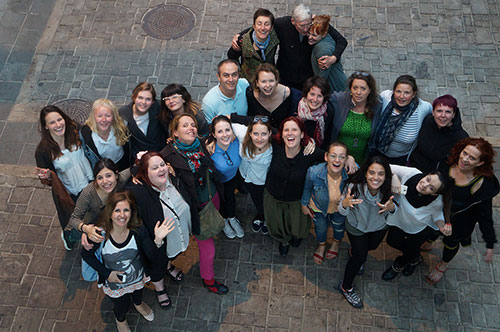 June 2015
Here we are…… all of us
Making a scene for Change II was a training course which explored social inclusion and youth participation through Theatre of the Oppressed, Forum theatre and, which planed achievable local and international projects that support the participation of young people!
For participants to learn more about the issues and challenges of marginalized young people.
To explore new approaches in inclusive practices specifically to learn about using drama methodologies in their youth work practice & 'Forum theatre/theatre of the Oppressed'.
To search for new way to eliminate discrimination through theatre methodologies.
To develop new educational projects involving marginalized youth.
To work on organizing local, national and international activities that address marginalization and exclusion.
To share this learning with their projects upon their return to their home country.
To explore the Erasmus+ programme in greater detail.
To provide a space for partnership building for future Erasmus+ projects.
Objectives of the training:
Through creative drama workshops to learn about Augusto Boal's Theatre of the Oppressed.
Create Forum theatre pieces, which reflect the issues relevant to the participants and the young people they worked with.
To explore/investigate, how this methodology can be used to explore social inclusion and support the participation of young people.
Give the participants a chance to practice their facilitation skills and more specifically how to be a 'joker' in Forum theatre.
Template to create local and international projects with your young people.
Exchange with other participants, the challenges arising from diversity in our own environment, and building a network with European partners.
Learn more about the funding possibilities of Erasmus+ programme
Return home with new knowledge and ideas on how to use Augusto Boal's Theatre of the Oppressed & Forum theatre in the local work with young people.
The venue was in Underværket a local culture and trading house in Randers, Denmark The duration was 6 days + travel. The countries involved were Denmark, Ireland, Italy, Austria, Slovenia, Estonia, Turkey, Romania, Bulgaria and Wales (UK). The number of participants was 26 in total. The implemented activities was Non-formal learning through workshops/group work using drama methodologies, games, team building, intercultural activities, planning and networking. The methodologies we used were creative, inclusive and participatory. The results were deeper knowledge of the challenges and obstacles facing marginalized young people in the different European realities, and how to overcome these challenges. As a result a resource paper have been made of all the exercises from the training, which can be used as manual/guide when participants what to implement Forum theatre activities back home. The resource paper is available for down load here.
Look all the program